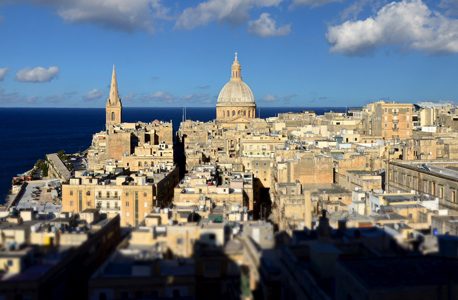 Looking for that nice place to visit in Europe? Then here are top 10 European destinations to watch this year.
Malta
Malta is a tiny island with big ideas, and it's going to be one to watch for the next few years. Preparations are well underway for the capital, Valetta, to step up as European City of Culture 2018. The city abattoirs are being transformed into a design district, the covered markets are being restored, a new cultural district – complete with several jazz bars – is emerging on Strait Street, and a new parliament of Malta – designed by Renzo Piano, of The Shard fame – recently opened.  Younger visitors are being attracted with music festivals from Radio 1's Annie Mac, and the well-regarded Isle of MTV event. Ryanair launch a new route from Manchester to Malta on March 17.
Liepaja
You might need a map to find Liepaja now – but not for long. Latvia's third city is trying to break into the premier league of European cities. In November it opened the Great Amber Concert Hall – an ambitious, 1000-seat opera house and concert hall designed by Austrian architect Volke Giencke. The city is hoping the eight storey, orange sided building will be its Guggenheim. Liepaja is also currently transforming its seafront – the so-called Triple Bridge Waterfront will become a new tourist destination filled with shops and restaurants, while the city is also in the process of re-opening some of the many spas which defined this Baltic Sea destination in years gone by, and will – they hope – appeal to today's stressed-out travellers too.
Lyon
Lyon is furthering its ambitions to be a prime destination in 2016. In January the new Stade des Lumieres opens. This state of the art football stadium is the newest in the world and will be home to the city's go-getting team Olympique Lyonnaise. Crucially, it will also be one of the key venues for the Euro 2016 football championships this summer. The ongoing redevelopment of Les Confluences, the old docks, is giving the city new restaurants, bars and and attractions like the Musee des Confluences, which houses arts and science displays. As of 2015, Lyon was added to Eurostar's network, with easy direct train services from London St Pancras making this city even easier to visit.
Iceland
Iceland has successfully marketed itself as a hip, young short break destination where you can get a dose of culture, as well as enjoy stunning scenery and unique landscapes. Music festivals are growing – Sonar, Iceland Airwaves and All Tomorrow's Parties are all attracting growing bands of jet-setting British music fans. British Airways sensed untapped demand when it launched a thrice-weekly Heathrow-Reykjavik Keflavik (the island's main airport) route in October 2015. The country's leading budget airline WOW Air is launching a new route from Keflavik to Bristol in May too. WOW, along with Icelandair, flies to US destinations, and both airlines and the country of Iceland benefit from flyers stopping over for a short break on transatlantic runs.
Menorca
British Airways launches a new route to Menorca from London Heathrow on April 29. This will widen access to the island, which has traditionally been perceived as more of a package destination, and one which lives in the shadow of its more famous neighbours Ibiza and Mallorca. BA will also be flying from Manchester and London City to the island for the summer 2016 schedules. Menorca is very well served from almost every UK regional airport over the summer months, by airlines including Jet2, Thomson, Thomas Cook, Easyjet and Ryanair. Holiday hotels across the island are being spruced up as Menorca continues to try and push upmarket. One example is Melia's Gavilanes in Cala Galdana, a 900-room hotel which re-opened in summer 2015 following a huge refurbishment.
Brussels
Brussels is a classic European capital with timeless short break appeal. So why is it in this list? Because in September it opened a fantastic new museums  – and one which travellers in particular will love. Train World is the new Belgian national railway museum, located inside the wonderful old station at Schaerbeek on the first railway line in Europe to run into a capital city (Brussels to Mechelen). A month later the city's new Train Hostel opened just round the corner. Although most of its beds are budget, there's a real railway carriage which hangs off the roof and has been converted into a luxury suite for a couple to stay in, creating a perfect trainspotter's weekend away. Art lovers on the other hand can try out the brand new Atomium Museum of Art and Design, which flung its doors open in and sits next to Brussels' iconic Atomium.
Rotterdam
Rotterdam is an architecture lover's theme park. As the home of the world's hottest architect right now, Rem Koolhaas, this is a city that's going places, and building pretty incredible new buildings. Buildings like the Timmerhuis – which opened in December 2015 and is designed by, yes, Koolhaas and his firm OMA. The Timmerhuis is bang in the centre of town and will house offices, flats and, and, as of early 2016 a new home for Museum Rotterdam, the city's repository of history and culture. Another of Rotterdam's breathtaking new architectural achievements is the Markthal – a food market and explosion of street food stands with an innovative covered roof into which apartments are cunningly plugged. Direct trains were supposed to run from London to Rotterdam from Dec 2016, but Eurostar has put that plan slightly back to 2017.
San Sebastian
This beautiful Spanish city is European Capital of Culture in 2016, with a varied programme of live events encompassing everything from puppetry to film, live theatre to dance. This gorgeous Basque city (also known as Donostia in the local Euskadi language) has an intoxicating coastal setting and has attracted wealthy Spaniards for decades. Now international visitors are beginning to fall for its charms too. As well as culture and the landscape, food is the other great selling point here: from pintxos to Michelin-starred restaurants, San Sebastian is a gourmand's mecca. Its situation in the north of Spain means that in the height of summer it stays mild, and the air is more civilised than almost any other Spanish resort.
Duoro Valley
Portugal's most famous and important wine region has been attracting Brits since the 1700s when they ran many of the wine businesses and exported the region's most famous tipple, port, back to England. As the United Kingdom's oldest ally we've always been close to Portugal, but now more than ever this is a tourism hotspot. Six Senses opened their new 57-bedroom Duoro Valley Hotel in a former stately home in the valley in July 2015 and it's, notably, their first hotel in the western hemisphere. As well as luxuriously appointed bedrooms, the hotel offers a spa and the chance to unwind with such activities as gardening, or even tree climbing. Another new hotel opened in the valley in May 2015 – the 38-bedroom Vila Gale Duoro oozes modern, grown-up sophistication.
Palermo
British Airways launches a new route to Palermo from London Heathrow for summer 2016, beginning on May 3. Easyjet already fly to the Sicilian city from London Gatwick and Ryanair from London Stansted. But 2016 is definitely the year to discover the biggest city on the biggest island in the Mediterranean. UNESCO has recently declared some of Palermo's ancient churches as World Heritage Sites and visitors are often – understandably – keen to drink in Palermo's rich and varied history, in addition to its renowned wines. It's not just ancient culture either; Palermo is full of modern arts events too.
Post culled from CountryByCountry online magazine.