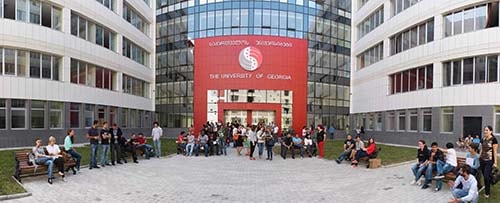 The University of Georgia is located in the center of the capital city of Georgia – Tbilisi, the city that lies in
the Eastern part of the country, and is home to people of diverse cultural, ethnic and religious background.
Studying at the University of Georgia opens doors to quality education and memorable student life.
Georgia itself is a country of ancient cultural heritage that offers Caucasus mountain range, Black Sea
coastline, curative climate, national parks and UNESCO heritage Sites.
University of Georgia is distinguished by its disciplined educational process and modern infrastructure,
enabling its students to acquire quality education and practical skills. For this reason the University is in
leading ranks of regional educational institutions and is well-known to be dedicated to professional and
personal growth of every student. Thus the graduates of the University of Georgia always benefit from
superior employment prospects.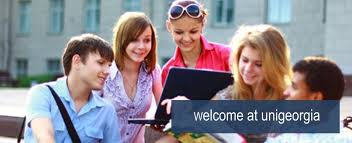 Offering thought provoking and diverse set of disciplines, UG is the place where knowledge is created and
acquired. The academic personnel of the University is staffed with highly qualified, well-experienced and
creative professionals dedicated to teaching creatively and with enthusiasm, helping raise young
professionals with demonstrated commitment to the public.
UG is proud of its diverse community with cross cultural awareness. Its multicultural environment shapes
intelligent, educated individuals with human values capable to meet modern challenges. The objective of
the University of Georgia, being one of the leading universities, is to encourage the personal development
of each student and mold him/her as a highly qualified professional. UG is always the right choice for those
that seek to achieve great success in life, and their graduates are usually in high demand on the labor
market.
BENEFITS OF STUDYING AT THE UNIVERSITY OF GEORGIA
No TOEFL required
No prior first degree needed to study any of the Science related courses
Affordable Tuition Fee (University of Georgia offers affordable tuition, ranging from
$3000-$5500 per year, while offering the same quality of education one would
receive in the United States, Canada and the United kingdom).
Tuition Fees denominated against the United States Dollar
Quality Education comparable to USA,UK, Canada & the rest of Europe
Cost of Living lower than other parts of Europe – as low as $300 monthly (covering
rent, utilities & feeding)
Exchange Programs in other European cities, USA or Canada
Residence Permit – with opportunity to work in Georgia
Georgia one of 5 safest countries in Europe
REQUIREMENTS
UNDERGRADUATE PROGRAM
IMMEDIATE REQUIREMENTS
Scanned copies of Original WAEC result
Scanned copy of International Passport Data Page.
POST GRADUATE (MASTERS PROG)
Scanned Copy Original undergraduate Certificate
Scanned Copy Original Transcript of Undergraduate Result
Scanned Copy Data Page of International Passport
OTHER REQUIREMENTS – POST RECEIPT OF MAIN ADMISSION LETTER & STUDENT VISA
Travel Insurance
Police Report
Yellow Fever Certificate
TUITION FEES:
Annual Tuition Fee for Medicine: $5,500
Annual Tuition Fee for Pharmacy: $4,000
Annual Tuition Fee for Dentistry: $4,500
Annual Tuition Fee for Nursing*: $3,500
Annual Tuition Fee for Civil Engineering: $4,000
Annual Tuition Fee for Information Technology(IT): $4,000
Annual Tuition Fee for Computer Science: $4,000
Annual Tuition Fee for Business Administration: $4,000
Annual Tuition Fee for MBA*: $4,000 (*2 year program)
Annual Tuition Fee for Masters In International Business Law*:$4,000
(* 2 year program)
All other Processing Fees in USD: $1,000
All other Processing Fees in Naira: N200,000
Note:
All fees are NON-REFUNDABLE
Annual Tuition fee is for 1 session which comprises of 2 semesters.
All other processing fees both in USD and NAIRA are ONE OFF PAYMENTS.
All other processing fees EXCLUDES RETURN AIR TICKET which is priced for and paid separately and
handled by Global Links Travels.
WAEC result – min of 5 credits including Mathematics & English
Student To Travel with Original Copies of Scanned Documents upon Receipt of Confirmed Admission
and Student Visa.