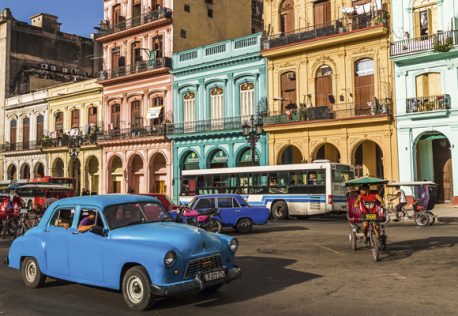 Of the Caribbean islands, Cuba is the one that evokes the most curiosity. The enigmatic city of Havana has a story as colourful as the people, but the Cuban capital is only a small glimpse of what the country has to offer. The medieval town of Trinidad has managed to remain off the tourist radar, and for those after a picture-perfect beach, Varadero is home to some of the most Instagrammable vistas in the world.
Havana
Havana is often the first glimpse of Cuba that most people get. Watch 1950s Chevrolet cars roll past, held together with rusted bolts and chugging out flumes of black smoke. Iconic baroque homes crumble in the sun while the imposing Stalinist monuments cast their shadow on the Plaza de la Revolucion. Fidel and his government took over in 1959 and ever since, the Cuban charm has been frozen in time — the reason more than three million people visit each year.
Varadero
This peninsula is often referred to as Blue Beach, named after the jewel-like coastline that stretches for 12 miles. Populated with many large hotel properties — ranging from family favourites to high-end retreats — this beach hotspot is a two-hour drive from Havana and there are plenty of tours and affordable taxis if you'd rather not self-drive. For those who do get behind the wheel, confusing or often absent road signs mean a GPS device is a must. Geared to tourism, this area is home to some of the most beautiful beaches in the world, making it the perfect place to stop and sunbathe.
Trinidad
Trinidad is a picture-perfect labyrinth of bright houses and cobbled streets. A former sugar and slave hub, the UNESCO World Heritage Site perfectly captures a snapshot of its history with a refreshingly modern attitude. Plaza Mayor is the social centre of the town; visitors can catch a show on the church steps, where revellers break into a sexy salsa or risque rumba to makeshift percussion.
SECOND TIME AROUND: From Cuba, with love
Plan a return visit around Cienfuegos, one of Cuba's most romantic settings. It's easy to mistake this beauty spot for a quaint coastal town, but this area played a significant part in Cuba's history. Observe the beautiful buildings and mansions along the historic Bay of Pigs before heading into the UNESCO-protected Agabama Valley. The slave watching tower at Hacienda Iznaga has the most beautiful view across the cascading green hills….
Post culled from countrybycountry online magazine.