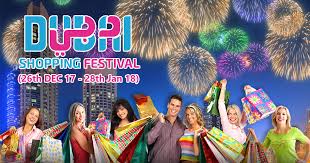 Discover shopping, entertainment and winning as you've never seen them before this DSF 2018. Get ready for great deals on fashion, gold jewellery, perfumes and more, enjoy awe-inspiring entertainment, from fashion shows to fireworks, and get the chance to win some life-changing prizes.
The 2018 Dubai Shopping Festival (DSF) is now here. From one-of-a-kind outdoor markets and flashmobs to fireworks, mega sales and rewards, this year's five week event is sure to impress. Whether it's about having fun with your family and friends or getting your hands on the hottest fashion trends, DSF is where you'll want to be. Running until January 27, 2018, Dubai presents visitors with world-class, immersive retail experiences.
Shop
Shopping takes on a whole new meaning during DSF. Not only are traditional retail spaces loaded with energy—and mega sales—but you'll also witness pop-up fashion shows right inside your favourite stores. You can see the latest styles in action and buy eye-catching items right on the spot; there's no better way to shop.
Need some fresh air after a shopping spree? Market Outside the Box (OTB) is an outdoor retail environment featuring several local and international brands, live entertainment and food trucks.
Win
Throughout DSF 2018, shoppers have the chance to win big. Need a new car? Enter to win one of eight Nissan models by spending AED20 at any Enoc/Eppco station. Or buy a Infinite Mega Raffle ticket to win an Infiniti car and AED150,000. The rewards don't stop there. There's also a weekly drawing to win AED50,000 for five lucky winners.
Celebrate
Get into DSF's unique shopping spirit by not only popping in and out of Dubai's endless array of stores and retail spaces, but celebrate your brand new buys, freshly inspired style, savings and rewards with food and entertainment destinations all in the name of fashion. Feel the city buzzing with excitement with street runways featuring Dubai's most iconic backdrops to firework displays every weekend across the city. Take home luxury at a bargain price along with the memories made during this magical time of year.
CONTACT US FOR PACKAGE BOOKINGS TO ENJOY THIS FESTIVAL: RESERVATIONS@GLOBALLINKSTRAVELS.COM, INFO@GLOBALLINKSTRAVELS.COM, WHATSAPP OR CALL: 08126307474.