Description
THE PEARL ACADEMY IN PARTNERSHIP WITH GLOBALLINKSTRAVELS PRESENTS!!!!!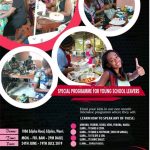 A special holiday program for the JSS 3 students and other children who will soon be done with their exams from 24th June – 19th July…… 
They will have the opportunities to learn different skills like
*cooking and baking
*making of footwear
*sewing
*playing musical instruments
*speaking different languages
*playing of chess
and many more!!!!!!
REGISTER YOUR CHILDREN NOW AND GIVE THEM THE CHANCE AT LEARNING THIS VARIOUS SKILLS 
CALL US ON 08037079060 FOR MORE INFORMATION….