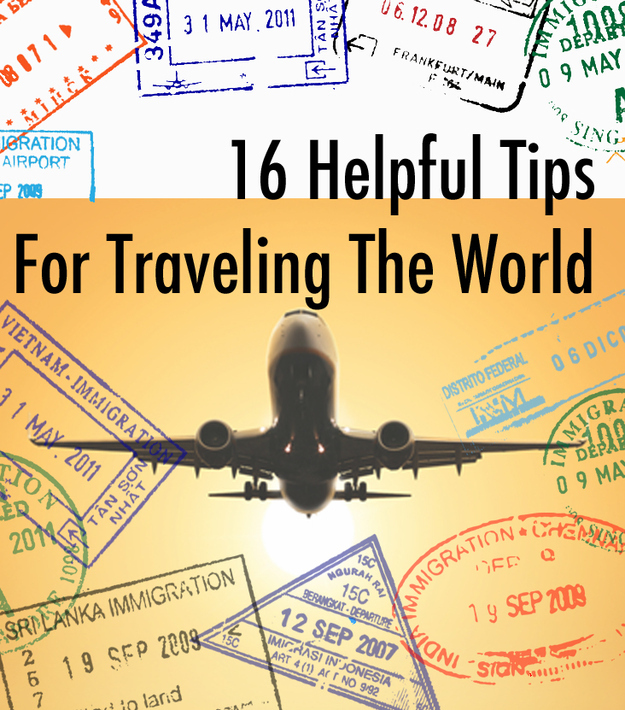 Traveling internationally is exciting — and also a little daunting. So here are helpful tips when you're travelling the world.
1.

Charge your phone using the USB port on the side of a hotel TV.
Power adapters are kind of a pain. But many of the flat-screen TVs you'll find in hotel rooms have USB ports on the side, which can come in handy for charging. You do have to keep the TV on, so it's probably not great for an overnight charge.
2.

But still, bring a power adapter.
Get a universal travel adapter that lets you toggle for use in different regions. (And buy it in advance. They're always marked up in the airport.)
3.

Take a screenshot of walking directions while you have a Wi-Fi connection.
And get where you're going without wasting precious (and expensive) data.
4.

Buy a Wallpaper City Guide.
Most guidebooks list dozens and dozens of museums and restaurants and other places to visit, many of which are tourist traps and most of which you won't have time to make it to anyway. The Wallpaper guides are carefully edited down to a small set of selections you'll actually like. Also: They're small to carry and will look pretty on your bookshelf when you get home.
5.

Better yet, download the app version.
Only $2.99, and the app will update with new tips when editors make changes to the guide.
6.

Figure out what the tipping customs are in the country you're visiting. 7.

Estimate how much local currency you'll need, and take out that amount from an ATM upon arrival. You'll probably have to pay some fee for getting local currency . Many banks will charge around $5 per withdrawal (and they'll possibly also charge you 1–3% of the amount you take out). But try to avoid racking up those $5 withdrawal charges by cutting down on the number of trips to the ATM.
By the way, getting local currency at an ATM usually carries a lower transaction fee than exchanging your cash at an airport or hotel.
8.

Also: Check with your bank before you leave.
Bank of America, for example, is part of the "Global ATM Alliance," which allows you to avoid those $5 withdrawal fees at ATMs from participating overseas banks, including Barclays, BNP Paribas, and Deutsche Bank.
And in general, it's a good idea to tell your bank and credit card company that you'll be traveling overseas so that they don't get suspicious and freeze your cards.
post culled from buzzfeed site.